A Website Is Your "Window Display" To The World. Use It To Establishing Authority & Put Your Best Offer Forward.
Have you ever walked down the street of a busy city, like New York or Los Angeles and seen a window display that was so amazing it made you stop in your tracks to check it out?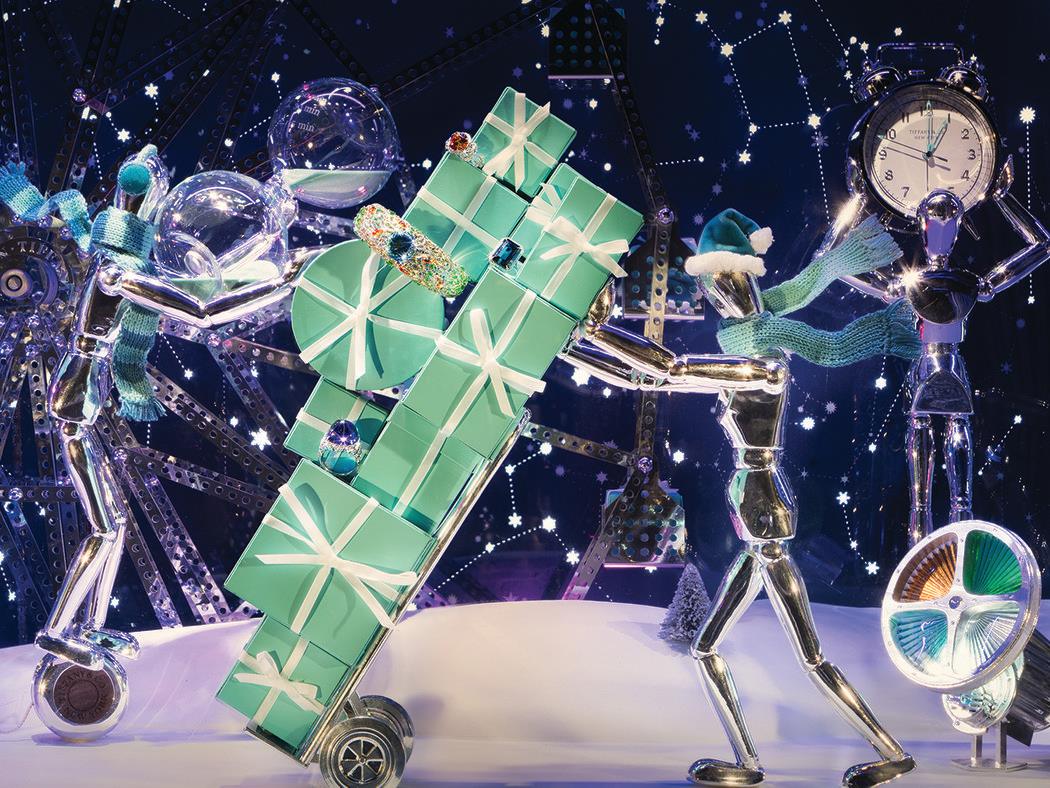 It may not have even been a window display in a big city. Maybe something in a small town had a scene in their window that spoke to you, or one that was completely off the wall that captured your soul.
That's what websites are today. They're our modern-day "Window Displays". The idea is to create something that your target audience is drawn to so they stick around, learn more, and buy.
A (Very) Brief History Of Window Displays
The concept of window displays goes back to the old sundry stores of old. Pharmacists and Apothecaries would display countless items in their windows in hopes that something would catch the eye of "passer-byes". That "mass product display" approach all changed around the turn of the 20th century thanks to an intuitive American millionaire living in the UK.
According to Impulse Pop:
Harry Gordon Selfridge was credited with injecting life and creativity into the shopper experience. He introduced the art of shop window displays to the UK in 1909. He was one of the first to create window dressing displays to attract customers. The American millionaire's aim was to "make an art of window display and upgrade window dressing".
Around this period, the First World War took place (starting in 1914). Consequently, the store used its 'War Window' display to show the latest war news. This included maps and war photographs which became an attraction. It drew people from all over London to Selfridges' just to read its contents.
The interesting shift that Harry presented to the world was one of simplicity. Gone were the days of putting everything on display in the window, and now came the time when only a few top items were displayed and drew in crowds.
In the decades to follow, retail stores of all kinds were battling for the top spot of "Best Window Display". Working with famous artists including Salvador Dali, Andy Warhol, and even major fashion brands to create the most interesting and captivating displays of art possible.
Modern Day "Window Displays" Emerge: Websites
Today, businesses of all kinds are now vying for the same kind of top-spot when it comes to their digital window displays. They come in the form of the homepage of their websites. Using gimmicks like moving backgrounds, videos, and interactive experiences, businesses are trying to entice customers to stay and buy.
The problem with most websites now though is they've reverted back to the tactics of the old days where "passer-byes" are shown numerous, if not an infinite number of items to choose from, with the business hoping viewers see something that "sticks".
As an example, here is the homepage of one of the most popular financial brands on the planet, PayPal. On the surface it seems fairly simple…their new app is available…
…however, as soon as you hover over their "Personal" menu at the top, a massive new list of options appear…
The "Personal" menu slides down to reveal 19 other paths for visitors to choose from, like "Request Money", "Send Money", "Donate..", and on and on…
Looking around the rest of their homepage and over 100 different options in total are available. How the heck does anyone decide?
As the old saying in sales goes, "A confused mind never buys".
Giving consumers 100+ paths to choose from on your homepage (i.e. virtual window display) will confuse them and ensure they "keep walking", most likely to a competitor's website.
Think about it like this. Imagine you're in need of a pair of sleek white medium size leather gloves, with sheep's wool lining, and red contrast stitching.
You take a drive to the nearest Macy's and ask the sales clerk for help. He walks to the back of the store, brings back a large bin of gloves, sets it on the glass counter top, and pours them all out.
The pile stretches down around the corner of the counter and is so deep that the shiny jewelry underneath the glass is no longer visible. It's also clear that the gloves are of all different colors, sizes, and styles.
What do you do next? My guess is one of two things: 1) Ask the clerk if he even bothered listening to what you asked for; 2) Throw your hands up, walk out in total disgust, and go across the street to Nordstrom's.
What's Old Is New Again
So if a website is not where we put all our amazing products/services on display, then what is it for?
I believe websites are mainly a place where people and businesses should establish themselves as the authority in their industries and niches by delivering value, along with their single best offer.
What does that have to do with trying to sell someone gloves?
Well, today's consumers are incredibly savvy. What I didn't mention earlier about the person leaving their house and heading straight to Macy's was, before that they ever left the house, chances are they did a web search first.
Consumers of all ages and types now do their homework for everything before shopping. They search for things like, "the best white gloves near me" and "where to find the best white gloves".
They may also expand the search to include things like, "ethically sourced leather", "gloves not made with slave labor", or "real sheep's wool lining", etc.
It doesn't matter what the product or service is either. People pull out there phone and educate themselves before doing anything now. In other words, people are hungry for information. More importantly, people are hungry for reliable information.
With over 1.5 Billion websites on the Internet, it's getting hard for consumers to sift through all the BS. They know this, which is why your website needs to become their go-to solution in your industry. Period.
Consumers are looking to find people and brands they can rely on for information that's worth their investing of time and money. How do you get them to trust you over the competition? Easy…
Publish Good Content That Creates Value & Trust
The most reliable way to create trust is to publish reliable and helpful content on your website regularly.
No longer are folks swayed by simple one-off ads that deliver no value. The average American sees over 1,500 ads per day! That's a lot, and the only way to stand out is by creating value for a targeted audience and deliver it in the form of content on your website.
Publishing also comes in 3 main forms today – 1) A Blog; 2) Podcast; Vlog (YouTube Channel).
When you publish consistently, the Search Engine gods (i.e. Google, Bing, & Yahoo) deliver the consumers searching for that kind of content directly to your doorstep (a.k.a. website).
To make it even easier for search engines to find the content on your WordPress site, use tools like Yoast, RankMath, or another Search Engine Optimization (SEO) plug-in.
Any web developer you work with should have some SEO tools built into your website as well. Things like Keywords, Headlines (H1, H2), and metadata (page descriptions).
To "demystify" SEO let me boil it down like this: SEO is really just the search engines monitoring the conversations happening on the Internet between various websites and consumers searching for things. The more websites and consumers talk with each other through search and links, the more the Search Engines reward those sites, and deliver consumers straight to your doorstep.
The longer consumers spend on a certain site, and the more webpages are being talked about by other sites through hyperlinks to and from each site, the better the sites look to the search engines.
The sites with the most interaction times, and referring links, the more free (organic) traffic they receive, and the more sales are made.
How much can publishing regularly be worth? How about $1 Trillion…with a "T"!
Amazon Introduces "Micro-publishing": Reviews
In our previous post about publishing we talked about how it can drastically impact any business by establishing it as the authority in your niche.
To prove just how powerful publishing is, even when it's done in tiny instances, look at Amazon.
In 1995 Amazon announced they were adding a feature called "Product Reviews". This is a staple of the Amazon experience today. However, back then most industry and financial experts mocked the idea by saying it would be the death of the online book retailer.
Quite the opposite. This move put consumers in the driver's seat one tiny paragraph at a time. No longer were prospective buyers stuck relying on quirky book tag lines, paid-for blurbs, or a book jacket with a "New York Times Best Seller" nod.
For the first time online, normal folks like you and I were allowed to drive the conversation about a product in the form of "publishing" short reviews with our honest insights after consuming the product. A review is one form of what I like to call "micro-publishing" and it was a total game changer.
Fast forward 25 years and we now know that adding customer reviews was one of the main factors that catapulted Amazon to the fastest $1 Trillion valued company ever.
Note: Amazon achieved this feat twice as fast as Apple, which took 42 years to hit the $1T mark.
What Should Be On Your Homepage?
Ok, we've discussed how window displays have evolved into their modern day version – websites. Also, how websites have become too confusing for the average consumer. What now?
What should be on the homepage of your website? These 6 things:
In the top menu:
Access to your publishing – link to the blog, podcast, or channel
In the body of the homepage:
Your main offer – the one thing they need to get started on the buying journey
Testimonials – customer reviews, social proofing
In the footer:
Contact information
About us link – so they know who you are and what you stand for
Support link – so they know you care about their success
Streamline the homepage to include only these 6 items and you'll increase user engagement overnight. Why? Because these points allow visitors to instantly understand how to use the site, where to go if they have questions, and exactly what they need to get started on the buying journey.
Pretty simple, right?
Let me ask: What elements are on your website now that might be confusing prospective buyers?
Do you have all 6 items we just listed? Check out your own homepage and see which items can be moved to a different part of the site to enhance the customer experience.
By streamlining what's on the homepage you'll also be one step closer to creating something that's even more effective at selling – A Funnel. You'll also be closer to creating what I think is the future of commerce on the web – Hybrid Websites & Funnels, or what I call "FunnSites"! More on that soon.
What's the difference between a website and a funnel? What the heck it s a funnel? Learn more about that here.
Talk soon!
Sincerely,
Thomas Buttino – Website Optimization Enthusiast